Photo
by Stokpic,
CC0 Creative Commons
Whether we're playing at a real casino or online, most players see slots as just a bit of fun on the way to the main games. Despite their big money rolling jackpots, no one ever expects to get rich playing slots. After all, no one ever wins those multi-million-dollar pay-outs do they? It can all feel a bit like the lottery.
But if this is how you see slots, then prepare to be surprised, because not only do those machines pay out, they do so with surprising regularly. What's more, you don't have to be a dedicated player spinning the wheels for hours on end to win. One German player dropped a $4m jackpot with just a $2.50 stake while he waited for his tea to cook!
$4m jackpot
The player from Lower Saxony, who has chosen to remain anonymous, had just got home after a long day at work. He was at a loose end for a few minutes while his tea was warming up, so he logged on to his favourite slot, Mega Fortune, expecting nothing more than a bit of fun to help him unwind. Minutes later, he had won so much money that he would never have to work again!
The thing is, he was no professional gambler. He had no fancy system to beat the casino. He was just an ordinary player, like you or me, who landed an extraordinary win. That's the joy of big money slots; every spin has the same chance of winning, whether it's your first or your five hundredth.
Not the first time
Remarkably, this was not the first multi-millionaire that Mega Fortune has made this year. The record that our German friend broke with his win was set by the same slot just a matter of months earlier. Back in March this year, the game had paid out $3.3m, raising the bar for slot machine millionaires everywhere.
In fact, PokerStars Casino pay out slots jackpots of more than a million dollars on a regular basis, with a big winner every two months on average over the last two years. And they go to ordinary people, just like us, logging on for a bit of fun with a little small change. One player from Uruguay turned $1 into $1.5m in 2017, while a Ukrainian player went one better by dropping $2.5m with just a 50c stake on Boxing Day.
Biggest slots win ever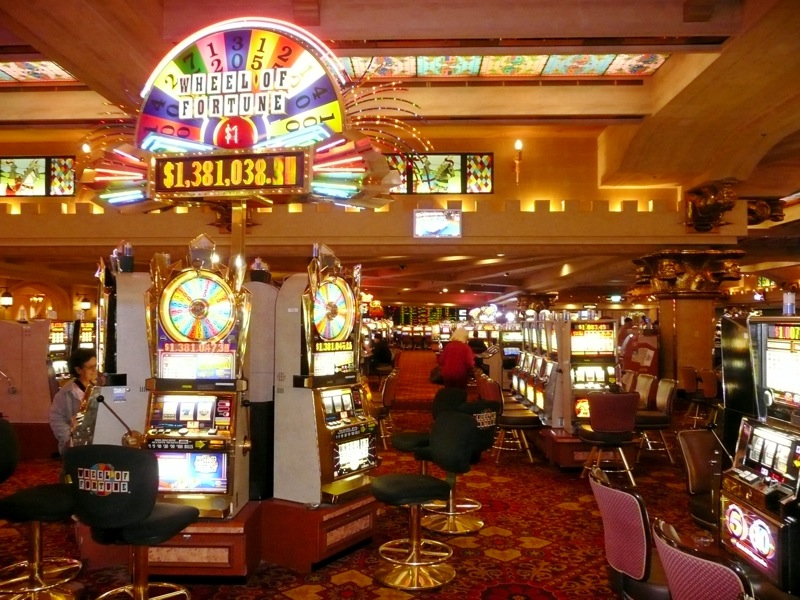 photo
by Thierry
CC BY 2.0
Record breaking slots at the Excalibur Casino, Las Vegas
Lower Saxony may hold the record for an online slots win, but it is just a tenth of the biggest win ever. The
all time slot machine record
is held by the Excalibur Casino in Las Vegas. They paid out a massive $39,719,826 – and 36c – to a 25year-old software engineer from LA in 2003. But if you can't get to Las Vegas to play, you can still
make money online
with life changing sums up for grabs.
So many ways to win
With
a huge choice of online slots
to pick from, there is something to suit every interest these days amongst the dazzling array of games. However, if your primary interest is dropping a big jackpot, then you should head straight for the likes of Mega Fortune or Millionaire's Island. The latter is a regular life changer, paying out no less than six times in 2017, with an average jackpot of $1.79m.
These big money machines all work on progressive jackpots, just like the fruit machine in your local bar. The more people play, the bigger the jackpot grows, until the slot is simply bursting to give you a big win. You don't even have to wait too long for the jackpot to build back up, as Millionaire's Island proved last July with two huge wins in the space of twenty days.
Time to take a chance
You might be suspicious of these big rolling jackpots, thinking they just there for marketing purposes, helping to attract players, but they're not. These huge jackpots are real, and sooner or later they will be won. No one knows which spin will win it, but it could easily be yours! So stop thinking of them as just a bit of fun on the way to your favourite casino games, and start taking them seriously – after all there is a serious amount of cash to be won.
Last edited by a moderator: